N Gauge Farish 372-975A Class 24/1 24064 BR Blue Locomotive DCC ready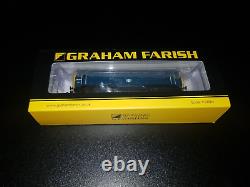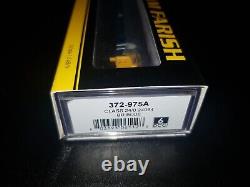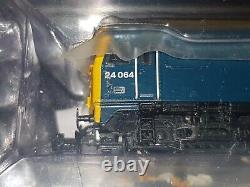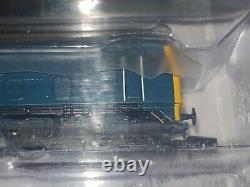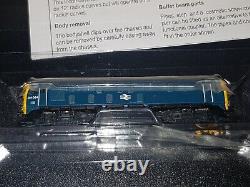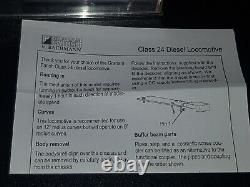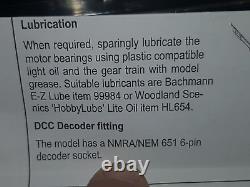 N Gauge Graham Farish 372-975A Class 24/1 24064 BR Blue Locomotive. Equipped with a 6 Pin DCC Decoder Socket. The widely travelled British Railways Class 24 diesel locomotives, also known as the Sulzer Type 2, were built from 1958 to 1961. One hundred and fifty-one were built at Derby, Crewe and Darlington, the first twenty of them as part of the British Railways 1955 Modernisation Plan.
This class was used as the basis for the development of the class 25 locomotives. 24081, was withdrawn from Crewe depot in 1980.
Four class members are preserved. Initial deliveries were for operation in the Crewe and Derby areas, but fifteen of the initial twenty were diverted for use on the Southern Region to cover for delays in the Kent Coast Electrification scheme. These were the usual motive power from its introduction on 17 January 1963 when D5082 hauled the Down train and D5083 the up train until replaced by the first Freightliner service in 1965. The batch D5096-D5113 were all allocated to Gateshead depot in 1966 to replace 9F steam locos on the Tyne Dock to Consett iron ore trains. These workings used a special design of bogie hopper wagon, and these locos had an additional compressor and associated pipework.
These workings, typically with loads of around 1,000 tons, were double-headed and continued until taken over by Class 37s in the 1970s, when these locos were reallocated to Scottish depots. Recycled previously used cardboard and wrapping materials often used for. Small items sent in brand new bubble wrap. If not happy with product or service please contact me BEFORE leaving.

---