N Gauge Farish 371-780A Class 90 006 High Sheriff BR InterCity (Swallow) Loco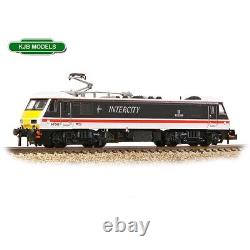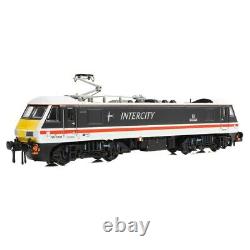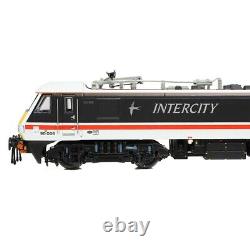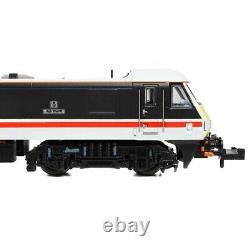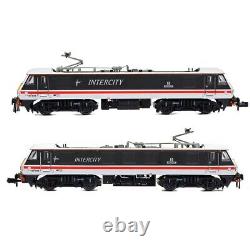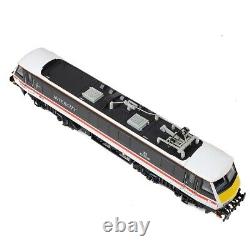 371-780A Class 90 006 High Sheriff BR InterCity (Swallow) Loco. Brand new item from our New Yorkshire model railway shop.
Pristine BR InterCity (Swallow) livery. DCC Ready (It is NOT DCC fitted). Equipped with a Next18 DCC Decoder Socket.
DETAIL VARIATIONS SPECIFIC TO THIS MODEL. TDM Cables fitted to the Buffer Sides.
Battery Boxes and Switch with Smooth Sides and Sliding Access. GRAHAM FARISH CLASS 90 SPECIFICATION.
Coreless, twin shaft motor with two flywheels providing drive to both bogies. Separate metal bearings fitted to each axle. Gearing arranged for prototypical running speeds and haulage capabilities. 9mm (N gauge) wheels to NEM310 standards with authentic profile and detailing. Close coupling mechanism fitted at each end, each of which is fitted with coupling pockets to NEM355 standards. Designed to operate on curves of second radius (263.5mm) or greater. Finely detailed Pantograph which is poseable.
Bogies constructed from multiple components featuring full relief detail. Separately applied underframe and roof detail components.
Each model supplied with a full set of model-specific bufferbeam pipework and accessory parts. Directional lighting, switchable on/off at either end. Cab lighting, switchable on/off (when used on DCC only, a decoder is required).
Authentic light colours and temperatures selected for each model based on era and application. Authentic liveries applied to all models. Multiple paint applications employed on each model using BR/TOC specification colours. Logos, numerals and text added as appropriate using multi-stage tampo printing using authentic typefaces, logos and colours. Constructed at British Rail Engineering Limited, Crewe, the new locomotives were initially classified as 87/2s however this was soon changed to Class 90 as the design featured a completely new body-shell - although much of the technology within was shared with the Class 87s.
Upon privatisation the Class 90 fleet was split between Virgin Trains, EWS and Freightliner. By 1999 all of the Class 90/1s acquired by EWS had been converted back to 90/0s due to an increased requirement for passenger locomotives to work contracted ScotRail sleeper trains and for hire to GNER for East Coast Main Line services.
Further renumbering by EWS occurred when nine locos were fitted with different brake blocks and these became Class 90/2s numbered in the 902xx series. The Freightliner locos were also converted back to their original specification in the early 2000s. 90128 was decorated in SNCB turquoise (Belgium), No. 90129 in DB red (Germany) and No. 90130 in SNCF orange and grey (France) and each carried the name Freightconnection in their respective languages, alongside No.
90022 which was named'Freightconnection' and carried Railfreight Distribution livery. The majority of the Class have carried names whilst in service and the 90s have appeared a variety of other post-Privatisation liveries such as GNER, DB Schenker, First ScotRail, One (Anglia), Greater Anglia, National Express, DRS and Malcolm Logistics. Today, Class 90s remain in operation with Freightliner, DB Cargo UK (ex-EWS/DB Schenker) and most recently Locomotive Services which has acquired Nos. 90001 and 90002 and repainted them into InterCity Swallow livery for use on charters and excursions.

---